David Abraham (Dave)
Senior Software Developer
Newcastle
Bachelor Computer Science (Software Development)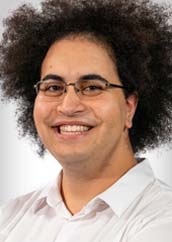 "It is well known that a vital ingredient of success is not knowing that what you're attempting can't be done."
Terry Pratchett, Equal Rites
"It is well known that a vital ingredient of success is not knowing that what you're attempting can't be done."
Terry Pratchett, Equal Rites
David Abraham (Dave)
Senior Software Developer
Newcastle
Bachelor Computer Science (Software Development)
---
David is a Senior Software Developer working at SSW Newcastle. He enjoys exploring the ever-changing world of technologies, and expanding his skillset with new and interesting problems.
David's strongest skills are:
Angular
JavaScript
.NET
WordPress
When he's not at his desk, you'll most likely find David tending to the flowers and vegetables in his garden (there's nearly always something ready for harvest!)
---
GitHub Contributions
---
Interested in what Dave can do for you?
Contact Dave's Account Manager to discuss your project
or call on +61 2 9953 3000