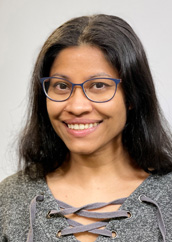 The most damaging phrase in the language is.. it's always been done this way
Grace Hopper
The most damaging phrase in the language is.. it's always been done this way
Grace Hopper
---


---
Nadee has 10 years of experience in the full solution delivery lifecycle under roles such as Senior Software Developer, Team Lead and SDET Lead. She is highly skilled in the .NET stack, SharePoint (Administration and Development), and Databases like SQL Server, Oracle, My SQL. She is strong in her soft skills as well and is passionate about areas like Psychology and Emotional Intelligence.
Her domain and industry knowledge span across E-Commerce, Aircraft Factory Floor Management Systems and Search Connector Development. She is keen on new technologies and strive to develop quality software utilizing her knowledge on Design Patterns, SOLID Principles and Clean Architecture.
---
GitHub Contributions
---
Interested in what Nadee can do for you?
Contact Nadee's Account Manager to discuss your project
or call on +61 2 9953 3000