Do you make sure every customers' (and prospects') email is in your company database?
Last updated by Ulysses Maclaren on 23 Dec 2014 06:03 am (over 6 years ago) See History
---
Most companies keep all their customers' (and prospects') contact information in a database (e.g. CRM, SQL Server, Access, Oracle). This allows all staff to easily locate contact details about a particular person. So when you get an email, make sure you check that email address and it is in the company database.
We have a program called SSW LookOut! for Outlook to check for this rule.

Figure: Stephen Koop needs to be put into the database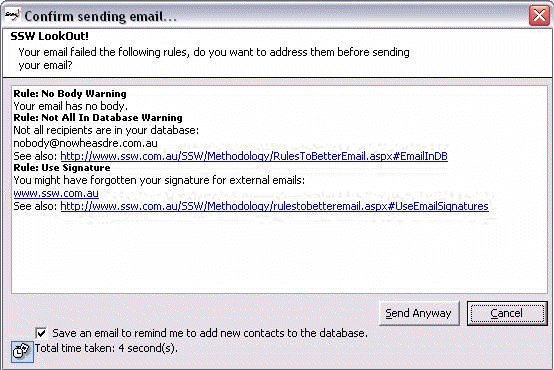 Figure: SSW Lookout! Can also check the emails that you are sending and tell you if the email address is not in your database.