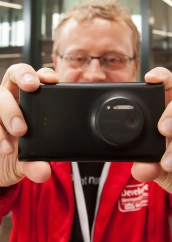 Whether you think you can, or can't, you're right - Henry Ford
Lars Klint
Whether you think you can, or can't, you're right - Henry Ford
Lars Klint
Whether you think you can, or can't, you're right - Henry Ford
Lars Klint
---
Lars is a Solution Architect and Windows Platform Development MVP.
He is an author, trainer, Microsoft MVP, community leader, authority on all things Windows Phone and part time car restorer. He is a published Pluralsight author and has been a part of the software development community for the past 20 years. Lars is heavily involved in the developer community, regularly speaks at conferences, and also helps organise community events.
Lars also hosts the podcast The Dane and The Pain, which explores everything tech with a cheeky side to things.
Lars' community activity:
Lars' recent presentations:
---
Interested in what Lars can do for you?
Contact Lars's Account Manager to discuss your project
or call on +61 2 9953 3000