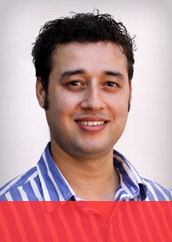 In the confrontation between the stream and the rock, the stream always wins - not through strength, but through persistence. - Budda
Sumesh Ghimire
In the confrontation between the stream and the rock, the stream always wins - not through strength, but through persistence. - Budda
Sumesh Ghimire
In the confrontation between the stream and the rock, the stream always wins - not through strength, but through persistence. - Budda
Sumesh Ghimire
---
Sumesh is a Senior Software Developer at SSW. He specializes in developing solutions with C#.NET, Silverlight, WPF and SQL Server. He also has experience in Java (J2EE) and php - mySql website development.
Sumesh's client projects:
FastAs - A site that provides search services for businesses people.

Related Technology: ASP.NET 2.0, Web Services, Windows Forms, SQL Server 2000, ADO.NET.

NRMA - Community help grant program, a dynamic data website to apply for the community grant.

Related Technology: MS Dynamic Data, ASP.NET 3.5, jQuery, Linq to SQL

MidWinter a finincial company wanted to upgrade their VB6 code base to VB.NET Related Technology: VB.NET, Ajax, ADO.NET, SQL Server 2005
Sumesh's internal projects:
SSW Code Auditor - one of the best tool for developers to audit their code.

Related Technology: C#, Windows Forms, SQL Server 2005, Reporting Services, ADO.NET, MS Sync Framework, Regular Expression, Web Services.
---
Interested in what Sumesh can do for you?
Contact Sumesh's Account Manager to discuss your project
or call on +61 2 9953 3000